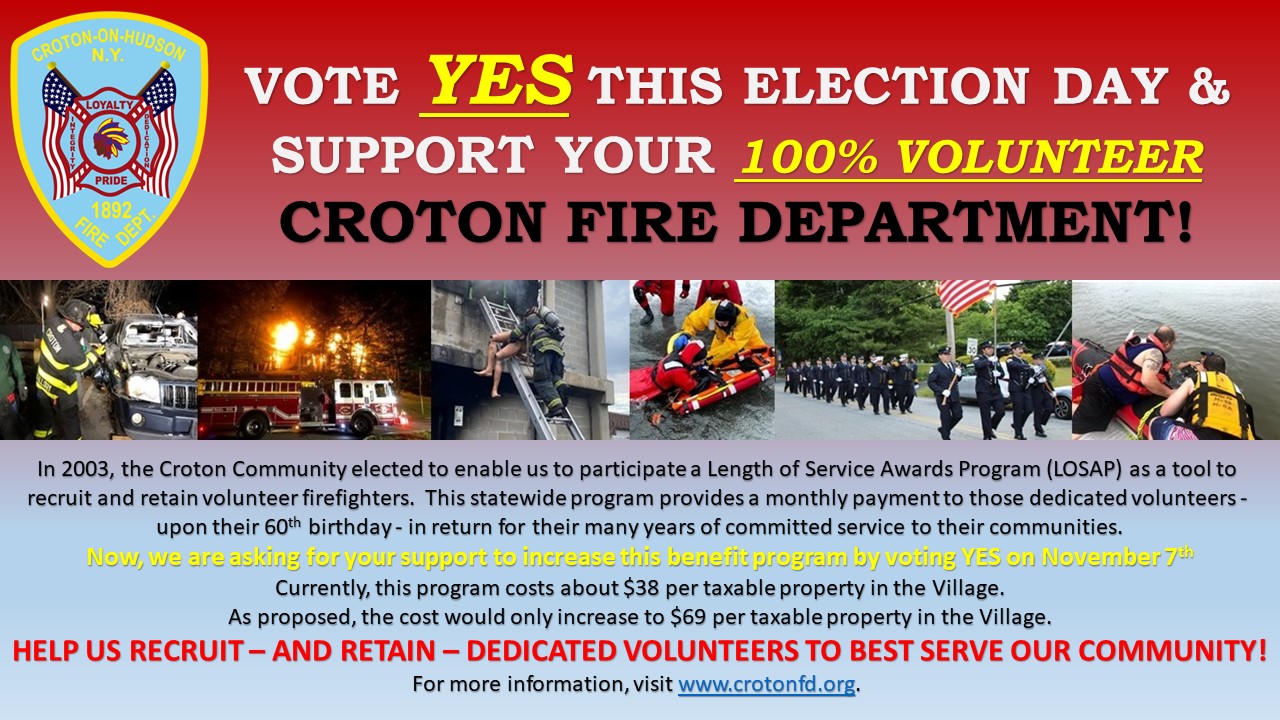 PLEASE VOTE YES TO SUPPORT YOUR
CROTON VOLUNTEER FIREFIGHTERS!
On Election Day, Tuesday, November 7, 2023 your Croton Volunteer Firefighters are asking for your support of a Public Referendum to increase our Length of Service Awards Program (LOSAP) benefits.
What is LOSAP?
LOSAP is a benefit for volunteer fire and EMS providers in New York State, where active firefighters and EMS personnel can accrue credit for the hours of time they volunteer in their community. Over time, these credits can add up to a monthly payment to these courageous and dedicated men and women when they reach the age of 60 years old. LOSAP was implemented in Croton in 2003 as a means to recruit, and hopefully, retain, volunteer firefighters and EMS providers.
Currently, a member may only accrue up to $20 per year of credit for up to 20 years of service – a maximum benefit payment of up to $400 per month.
New York State changed the parameters of this program in 2021 which permits qualifying volunteer firefighters and EMS providers to earn up to $30 per year of credit for up to 40 years of service – a maximum benefit payment of up to $1,200 per month.
What will it cost?
Currently, the Village of Croton funds this benefit program at about $120,000.00 per year, or roughly $38 per taxable property.
If approved, the program will cost about $220,000.00 per year, or roughly $69 per taxable property.
For a home with an assessed property tax rate of $18,000.00, our LOSAP proposal equates to less than one half of a percent of your total taxes.
Why Support This?
Your Croton Volunteer Firefighters are your neighbors, your kids' Little League Coaches, the woman in your Yoga class or the guy sitting next to you on the train each morning and would drop whatever it is they are doing to answer your emergency.
We are a progressive, all-volunteer organization started in 1892 with close to 100 active members, a thriving Explorer Post for teens still in High School and have provided one of the most dependable emergency services to Croton and beyond for over 130 years. We are a proud group of folks from all walks of life that took an oath to protect our communities. Help us continue to do this by showing your support and helping us improve this important program.
PLEASE VOTE YES FOR THE CROTON FIRE DEPARTMENT LOSAP REFERENDUM!
THANK YOU FOR YOUR CONTINUED SUPPORT!