Web Counters
Website Visitors
Since
December 14, 2012

Visitors Today
Apr 05, 2020

We thank you all for visiting us here on the internet, and encourage you to follow us at Twitter and Facebook (CrotonFire) for the most up-to-date Croton FD happenings! Please respect the content we so proudly share with you. The duplication of text, photos, video or any other content is prohibited without the written consent of the Croton-on-Hudson Fire Department. If you have any questions or would like to use any content from our website, please contact our webmaster by clicking here. Thank you for your cooperation and understanding, and we appreciate your support.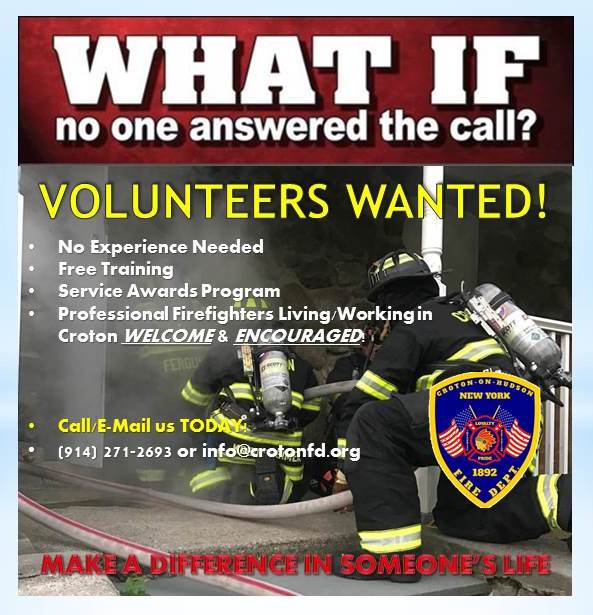 Quick Work Made of Porch Fire

CFD Reporting Team, February 24

At 7:05 PM Monday, February 24th, Croton's Bravest - as well as a FASTeam from Ossining Fire Department & Tankers from Millwood Fire and Yorktown Heights Volunteer FD - were dispatched to a reported porch fire on Colabaugh Pond Road in the Mount Airy Fire Protection District in Cortlandt.

Car 2082 (A/C Munson) reported "fire showing from Route 129," and arrived moments later with a "single family ... (Full Story & Photos)

One Ejected and Flown Out on Route 9

CFD Reporter, January 07

Around 2:45 PM this past Tuesday, the Croton-on-Hudson Fire Department, Croton EMS, Croton Police and a Mutual Aid Paramedic from Cortlandt Paramedics were dispatched to southbound Route 9 for a reported serious Motor-Vehicle Collision, south of the Warren Road overpass.

35-Medic-2 (the first-arriving unit) arrived on scene and requested a launch of the Medivac and advised that FD would need to set ... (Full Story & Photos)

Engine & Tanker on Peekskill 3rd Alarm Blaze

CFD Reporting Team, December 08

Shortly before 11:00 PM on Sunday night, December 8th, our FASTeam was dispatched to an active structure fire in the City of Peekskill. Units there were met with a four-story Senior Housing building under construction with heavy fire showing.

While the crew was filling out for Engine 119 as the Firefighter Assist & Search Team unit, Westchester County Fire Control added a Tanker Strike Team to the ... (Full Story & Photos)


Second First Due Structure Fire in Less Than 24 Hours

CFD News Team, August 25

Croton-on-Hudson Fire Department's volunteers were put to work at a second structure fire within the village in less than 24 hours early Sunday.

At 1:17 AM on Sunday, August 25th, the COHFD was dispatched to the area of Ackerman Court for a reported structure fire. Responding units noted the odor of smoke in the upper village and the north end near Stations 1 and 2 while enroute. Upon the arrival ... (Full Story & Photos)



Photo by C. Barone

4th Alarm Struck for Fire in Discovery Cove Condos

CFD Reporting Team, August 24

On Saturday 8/24/19, the Croton-on-Hudson Fire Department was dispatched to a reported structure fire in the Discovery Cove Condos on Half Moon Bay Drive. Our volunteers would face a fast-moving and gas-fed fire, eventually reaching a 4th Alarm for additional manpower.

At 7:45 AM, Westchester County Fire Control (60 Control) began receiving multiple calls for a structure fire in the southern end ... (Full Story & Photos)

The Croton Fire Council meets the last Tuesday of every month at 8PM at Washington Engine Firehouse.
(Unless it falls on a holiday, when it will be held the next evening).
Thank you for visiting! Your feedback is important to us - feel free to sign the guestbook.
2020 Incidents
Jan
39
Feb
27
Mar
11
Apr
May
Jun
Jul
Aug
Sep
Oct
Nov
Dec
Total
77
Past Incidents
2019
419
2018
473
2017
357
2016
437
2015
443
2014
369
2013
373
2012
437
2011
445