Web Counters
Website Visitors
Since
December 14, 2012

Visitors Today
Sep 17, 2014

Latest 10 Responses

09/16/2014: 171 CLEVELAND DR CROTON: @CROTON ON HUDSON LIBRARY, Cross: ALEXANDER LN, Type:INVEST, OUTSIDE, Time out: 16:30:31 Area: CROTN,Alarm lev: 0
09/16/2014: ONEIDA AVE/CLEVELAND DR CROTON, Cross: ONEIDA AVE, Type:INVEST, OUTSIDE, Time out: 15:26:47 Area: CROTN,Alarm lev: 0
09/16/2014: 68 OLD POST RD S CROTON: IAO, Cross: CLEVELAND DR, Type:INVEST, OUTSIDE, Time out: 14:58:03 Area: CROTN,Alarm lev: 0
09/16/2014: 40 ARROWCREST DR CROTON: @HUDSON NATIONAL GOLF CLUB, Cross: DEAD END, Type:ALARM, COMM, Time out: 08:22:09 Area: CROTN,Alarm lev: 0
09/14/2014: CROTON: @HUDSON RIVER - CROTON (CROTON POINT), Cross: , Type:RESCUE, , Time out: 23:21:09 Area: CROTN,Alarm lev: 0
09/13/2014: 1 OLD POST RD S CROTON: @DR. JEFFREY FERRER DDS, Cross: MAPLE ST, Type:INVEST, INSIDE, Time out: 08:21:53 Area: CROTN,Alarm lev: 0
09/09/2014: CLEVELAND DR/OLD POST RD S CROTON, Cross: CLEVELAND DR, Type:INVEST, OUTSIDE, Time out: 23:32:58 Area: CROTN,Alarm lev: 0
09/09/2014: 74 AMBER DR CROTON, Cross: ORIOLE LN, Type:STRU, , Time out: 18:10:42 Area: CROTN,Alarm lev: 0
09/07/2014: 710 HALF MOON BAY DR CROTON, Cross: DEAD END, Type:INVEST, INSIDE, Time out: 19:44:32 Area: CROTN,Alarm lev: 0
09/07/2014: 154 GRAND ST CROTON: @CROTON FIRE STATION #1, Cross: OLD POST RD S, Type:ALARM, COMM, Time out: 17:44:04 Area: CROTN,Alarm lev: 0
SMOKE/CO ALARM RECALL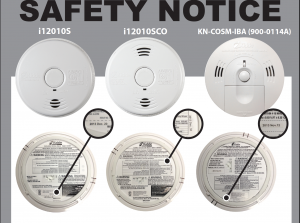 Please click on the image for more information regarding the Kidde Smoke & Combination Smoke/CO Alarm Recall.
Kidde Recalls Smoke Alarms

Deputy Chief John Munson, September 16

Certain Smoke and Combination Smoke/Carbon Monoxide Alarms manufactured by Kidde have been voluntarily recalled by Kidde and the U.S. Consumer Product Safety Commission (CPSC).

The models involved are the hard-wired type with a battery back-up that can be "latched" to other detectors within a residence. It has been determined that the affected alarms may not perform as designed following a power ... (Full Story & Photos)

Saturday Morning Rollover on Route 9

CFD 912, September 06

At 7:20 AM on Saturday, Croton Fire, EMS and Police were dispatched to Route 9 southbound in the area of Municipal Place for a rollover motor-vehicle accident. On the ticket was Engine 119, Engine 120, Rescue 18, Car 2083, CEMS 55B1 and OVAC 36M1.

With conflicting reports of where the accident actually was, Car 2083 (AC Colombo) located it on the southbound exit to Municipal Place. The vehicle ... (Full Story & Photos)



Photo from 484



Photos from OFD E96 Facebook Page

FAS Team, Tanker on Ossining House Fire

Station 2 Reporter, September 01

Around 7:40 PM on Monday, Ossining FD was sent to an Old Albany Post Road home in the Crotonville section of their district for a reported house fire. On the arrival of their Chief Jason Lorenz (Car 2331), he confirmed a working fire and transmitted the "10-75."

On the working fire assignment was our Engine 119 as the FAS Team and Car 2083 (A/C Colombo). Upon their arrival, the FAST stepped off ... (Full Story & Photos)


Saying Farewell to Charlie O'Connor

Deputy Chief John Munson, August 31

Earlier this week, Life Member of Croton Fire Patrol No. 1 Charlie O'Connor passed away unexpectedly at home. He would have been 88 this upcoming Friday.

Charlie joined the department in 1993, at an age when many people his age begin enjoying their retirement and slowing down. He joined Fire Patrol as a "Medic," with the intention of being a part of our EMS unit.

In January 1994, he took the NYS ... (Full Story & Photos)



Photo from Croton EMS


Another Intense Night of Training for CFDFAST

Deputy Chief John Munson, August 18

Last night, members of the CFD Firefighter Assist & Search Team (FAST) held our monthly training session. The drill took place at the Millwood Fire Training Center, located next to their firehouse on Route 134.

Tonight's training reviewed the basics of search, teamwork and firefighter air management. Following that, the brothers took turns carrying a "downed member" up a flight of stairs. All ... (Full Story & Photos)

Thank you for visiting! Your feedback is important to us - feel free to sign the guestbook.
2014 Incidents
Jan
41
Feb
37
Mar
34
Apr
24
May
24
Jun
32
Jul
32
Aug
35
Sep
16
Oct
0
Nov
0
Dec
0
Total
275
Past Incidents
2013
373
2012
437
2011
445
2010
469
2009
329