Web Counters
Website Visitors
Since
December 14, 2012

Visitors Today
Dec 17, 2017

We thank you all for visiting us here on the internet, and encourage you to follow us at Twitter and Facebook (CrotonFire) for the most up-to-date Croton FD happenings! Please respect the content we so proudly share with you. The duplication of text, photos, video or any other content is prohibited without the written consent of the Croton-on-Hudson Fire Department. If you have any questions or would like to use any content from our website, please contact our webmaster by clicking here. Thank you for your cooperation and understanding, and we appreciate your support.
National Weather Service Alerts for Westchester County, NY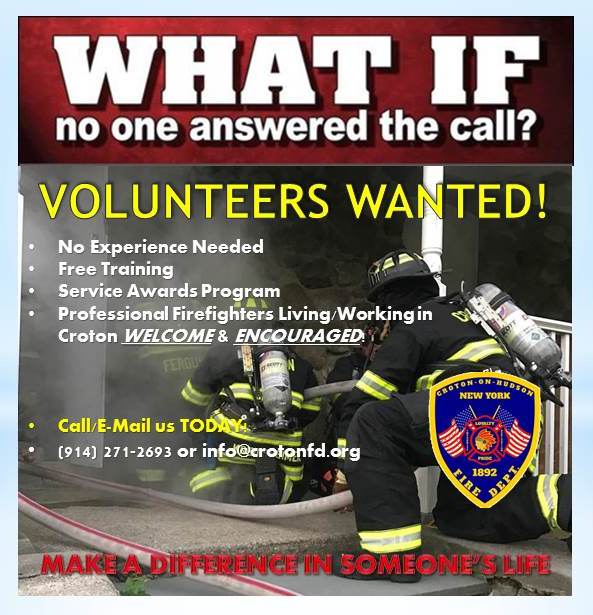 Santa Claus is Coming to Croton!

The CFD Holiday Squad, December 17

Ho, Ho, Hoooooooly cow, it's that time of the year again!

On Sunday, December 17th, our favorite white-bearded buddy will don his "fire engine red" suit and join our members on his grand tour of Croton! That's right, Santa Claus will be coming to Croton and visiting neighborhoods in both the Village and the outlying Mount Airy & Quaker Bridge Fire Protection Districts on Sunday, December 17th from ... (Full Story & Photos)


Second 2nd Alarm Fire in Montrose in Less Than 3 Weeks

CFD Fire News Reporter, November 27

At 5:30 PM on Monday, the Croton-on-Hudson Fire Department was dispatched to the Springvale Apartments in the Montrose Fire District for a working fire. Command was requesting our Firefighter Assist & Search Team (FAST) on top of their initial "10-75" assignment to the scene. Immediately after we were dispatched, the 2nd Alarm was struck, bringing additional assets from the area to the scene.

Car ... (Full Story & Photos)


Croton Fire Called to Montrose 2nd Alarm Blaze

CFD Fire News Reporter, November 08

Shortly before 11AM on Wednesday, the Croton-on-Hudson Fire Department was requested as a FASTeam to a working fire at the Springvale Apartments in Montrose. As the crew was forming, 60 Control changed our assignment to an Engine Company to aid in fire suppression efforts. Minutes later, Engine 118 (Chemical), Utility 14 (Washington) and Car 2089 were on the way with over one dozen Interior Firefighters.

Members ... (Full Story & Photos)


FASTeam Responds to Fatal Ossining Fire

Steve Lieberman and Matt Spillane, LoHud.com, October 13

OSSINING - A 58-year-old woman died during an early morning fire inside her apartment on Friday, police said.

Ann Marie Carroll-McElligott likely died from smoke inhalation after a lit cigarette set off the blaze inside her home at the Waterview on the Hudson apartment complex, Police Chief Kevin Sylvester said.

Police investigators suspect Carroll-McElligott may have been unconscious from a medical ... (Full Story & Photos)



Photo from Lohud.com


Garbage Truck Rollover in Croton Point Park

CFD Reporting Team, October 12

At 11:40 AM last Thursday, Croton-on-Hudson Fire Department, Croton EMS, the Ossining EMS Paramedic Unit and Westchester County Police were called to Croton Point Park for the report of an overturned garbage truck with possible injuries.

Units were met at the main office by the driver of the truck and other staff members, stating the accident actually occurred further into the park near the swimming ... (Full Story & Photos)

Thank you for visiting! Your feedback is important to us - feel free to sign the guestbook.
2017 Incidents
Jan
28
Feb
23
Mar
24
Apr
28
May
27
Jun
24
Jul
42
Aug
40
Sep
38
Oct
25
Nov
27
Dec
13
Total
339
Past Incidents
2016
437
2015
443
2014
369
2013
373
2012
437
2011
445
2010
469
2009
329