Web Counters
Website Visitors
Since
December 14, 2012

Visitors Today
Apr 21, 2014

Latest 10 Responses

04/20/2014: 1760 FRONT ST YORKTOWN, Cross: MOSEMAN RD, Type:STRU, , Time out: 17:14:24 Area: YKTWN,Alarm lev: 0
04/19/2014: 15 MT AIRY RD CROTON: @SYMPHONY KNOLL, Cross: GRAND ST, Type:INVEST, INSIDE, Time out: 10:57:27 Area: CROTN,Alarm lev: 0
04/18/2014: 15 MT AIRY RD CROTON: @SYMPHONY KNOLL, Cross: GRAND ST, Type:ALARM, COMM, Time out: 07:06:43 Area: CROTN,Alarm lev: 0
04/17/2014: 16 LARK LN CROTON, Cross: WREN LN, Type:STRU, , Time out: 09:35:41 Area: CROTN,Alarm lev: 0
04/16/2014: 41 MT AIRY RD E CORTLANDT, Cross: LINCOLN RD, Type:SERVICE, LOCKOUT, Time out: 16:36:02 Area: CROTN,Alarm lev: 0
04/16/2014: 1 CROTON POINT AVE CROTON: @MNRR HARMON YARD, Cross: VETERANS PLZ, Type:ALARM, COMM, Time out: 14:16:41 Area: CROTN,Alarm lev: 0
04/15/2014: 10 NORDICA DR CROTON, Cross: DEAD END, Type:ALARM, RESD, Time out: 12:00:52 Area: CROTN,Alarm lev: 0
04/11/2014: 8 SUNSET TR CROTON: @MULTI-FAMILY DWELLING, Cross: HARRISON ST, Type:HAZARD, WIRES, Time out: 22:42:20 Area: CROTN,Alarm lev: 0
04/10/2014: 25 GRAND ST CROTON, Cross: S RIVERSIDE AVE, Type:MVA, INJURIES, Time out: 21:38:58 Area: CROTN,Alarm lev: 0
04/10/2014: 240 UNDERHILL AVE YORKTOWN: @UNDERHILL APARTMENTS (240):APT 19, Cross: SUMMIT ST, Type:STRU, , Time out: 18:44:22 Area: YKTWN,Alarm lev: 0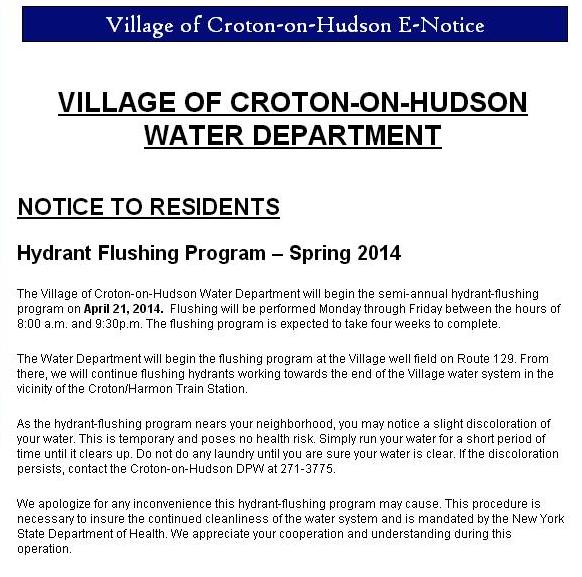 Do you need assistance in an emergency?

Are you disabled or have any special needs?

If you answered "yes" then please consider signing up for the Village of Croton-on-Hudson's Voluntary Special Needs Database, a confidential residential listing of people with special needs.

The database will be used by Croton Public Safety Agencies (Police, Fire and EMS) as a way to help you during emergency situations.

Go to the Village's website HERE to sign-up. (You can also click on the image to the left.)
Bravest Handle Fire in South End Restaurant

CFD Staff Reporter, April 08

On Tuesday at 11:05 AM, multiple 911 calls came pouring in reporting the building on fire at South Riverside Avenue and Clinton Streets in the Harmon section of the village. When Car 2082 (A/C Mansfield) marked on responding, based on the number of calls -and the fact that our Engine 120 is out for maintenance - he requested an Engine & a FAS Team from Ossining right away.

Moments later, units were ... (Full Story & Photos)


25 Volunteers Attend Live Fire Training

Deputy Chief John Munson, March 31

This past Monday evening, 25 members of the Croton-on-Hudson Fire Department made their way to the county's fire training center in Valhalla for a night of refresher training.

Using the propane fire prop building, members performed multiple evolutions of simulated residential fire procedures. Members were split up into teams to conduct forcible entry, search, fire attack, ladder placement and hose ... (Full Story & Photos)


Bravest on Peekskill Multi-Alarm Job

CFD News Unit, March 30

Just before 3AM this Sunday, the CFD FAS Team was at it again, this time responding to the City of Peekskill for the structure fire in a 100+ year old building under renovation. Within a couple of minutes, Rescue 18 was out the door, responding with ten FAST members including Car 2083 (A/C Colombo).

On arrival, the team developed a Rescue Plan in the event of any firefighter emergencies, and ensured ... (Full Story & Photos)



Photo by Lt. D. Kempter.


Bravest Contain Chimney Fire on Windsor Road

CFD Staff Reporter, March 28

10:15 PM: While CFD units were investigating an activated fire alarm on the Village's north end, 60 Control dispatched a full assignment to Windsor Road in the Fire Protection District for the reported Chimney Fire.

In addition to a full CFD response, automatic dispatch for the Millwood and Continental Village Tankers was made, due to the lack of hydrants in this area. Car 2089 (D/C John Munson) ... (Full Story & Photos)


3rd Alarm in Ossining Brings CFD to Work *PHOTOS ADDED*

Deputy Chief John Munson, March 28

11:45 AM FRIDAY: As an Ossining PD unit was patrolling down State Street, he noticed smoke and fire coming from a vacant residence. Moments later, OFD Car 2332 (A/C Scarduzzio) struck the box, calling for his 10-75 assignment, calling for our FAS Team.

Within minutes, Car 2082 (A/C Mansfield) and Rescue 18 (covering for Engine 119 which is out for repairs) were responding with a full compliment ... (Full Story & Photos)



Photo by JT Camp

Thank you for visiting! Your feedback is important to us - feel free to sign the guestbook.
2014 Incidents
Jan
41
Feb
37
Mar
34
Apr
19
May
0
Jun
0
Jul
0
Aug
0
Sep
0
Oct
0
Nov
0
Dec
0
Total
131
Past Incidents
2013
373
2012
437
2011
445
2010
469
2009
329